By Robin J. Miller
From near death in 2009, Ballet BC has picked itself up, dusted itself off, and started all over again – arguably better than ever before. Artistic Director Emily Molnar has very deliberately moved the company, at least for now, away from anything resembling classical or storybook ballet, and into the very different realm of short, sharp contemporary ballet pieces that push audiences to a different understanding of what "ballet" means today. It ain't necessarily what your grandma saw.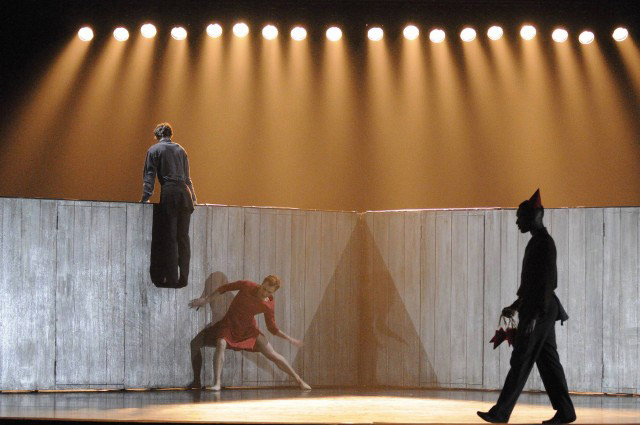 Ballet today is a fluid thing: it includes Petipa's Swan Lake as well as Twyla Tharpe's Deuce Coupe; it can be danced en pointe or barefoot, to Tchaikovsky or the Beach Boys or nothing at all; it might tell a story, it might not. But we know it when we see it. And we saw lots of it in Victoria with Ballet BC's Triple Bill (seen January 30). This is a young company perfectly trained in traditional ballet technique, but ready to push the restrictions of that technique to discover other ways of moving through space.
In Finnish choreographer Jorma Elo's I and I am You, commissioned by the company and given its world première in Vancouver last October, the dancers matched their steps to a series of short pieces by J.S. Bach and Robert Schumann. But while they were always on beat with the music, and the choreography consistently called for movements that would not be out of place in any purely classical ballet from a century or more ago, the dance never felt anything other than contemporary. Just when a perfectly executed arabesque or jété turn was over, along came a silly walk or a quick, angular hand and arm that Balanchine would have loved. The tension between old and new movement, and between beautiful, light and airy music and the modern, intense, athletic physicality of the dancers, particularly the men, resulted in an off-kilter energy and charm that made the piece feel both familiar and challenging at the same time.
The costumes by Kate Burrows and lighting design by Jordan Tuinman helped, too. The men wore dove grey pants that felt vaguely Dickensian, but they were bare-chested; the women a modest-feeling corset-like top with bare legs. The line of golden lights across one-half of the back of the stage somehow looked like they could belong in either a contemporary loft or a royal palace.
Emily Molnar's own 16 + a room followed, which also premièred in Vancouver last October. The only piece of the evening to put the women in pointe shoes, or to use non-classical music, it was also the darkest of the three. Or maybe not. At times feeling like a nightmare, at times a celebration, 16 + a room was ambiguous to say the least. What started as a cold, electronic soundscape by German composer Dirk P. Haubrich, which gave the dancers no beats to tell the time by and us no hint as to what their quick, darting, fast stopping movements might signify, gradually morphed into a warmer, more urgent pulse of sound that swept the troupe up with it – but I am still not sure whether they were off to the apocalypse or a rave. Doesn't matter, though. The movement, often with the men and the women dancing in separate groups, was strong, dynamic, vital: it pushed and pulled the dancers on-stage and off, created freeze-frame sculptures out of beautiful bodies and had those bodies circle and circle again, stopping now and then but never quite coming to a peaceful rest.
The final piece of the evening was Johan Inger's Walking Mad, created by the Swedish choreographer for the Netherlands Dance Theatre in 2001 and danced first by Ballet BC in 2012. Almost too cute, Walking Mad opens with dancer Peter Smida, looking a little like a European clown (big baggy coat, funny bowler hat), pretending to lift the curtain with his great muscles, revealing a long, wooden fence-like wall. The wall quickly becomes an essential character: moving forward and back and in and out; dancers climb it, kick it, get swallowed by it; they dance on it when it's down and magically appear and disappear through its many hidden doors. Maybe it symbolizes the madness of the title, or maybe it's just something to play with. Whatever, it enhances the intense theatricality of the piece, which seesaws from goofy (young guys in red party hats with their hormones obviously running amok, chasing girls) to chilling (a woman in a red dress trapped into a corner by the wall).
Finally, at the end, the tone shifts yet again, as the music moves from Ravel's exuberant Bolero to Arvo Pärt's minimalist Für Alina. Here, Rachel Meyer and Peter Smida danced a deeply sad and poignant duet that ended with Smida dropping over the wall – to his death, perhaps? It was a complex shift from the light-heartedness of the beginning, but it was necessary, both for Inger's piece and for the evening of dance as a whole. It brought a depth of emotion that was lacking before, terrific as the other two pieces were, and it gave a woman a truly meaty, starring role. Before this, it was a night pretty much solely for the boys.