Supporting emerging dance artists training at international institutions
Dance Victoria announced three winners in the 2021 Chrystal Dance Prize – Training category for emerging dance artists. A panel of dance professionals selected the winners through an application process.
Mikaela Kos from Coquitlam, who is studying contemporary dance at the Palucca Hochschule für Tanz in Dresden, Germany, was awarded $5,000. This is Kos' second time winning the CDP-Training Award. She will use the funds as she transitions from the Bachelor of Dance program to an apprenticeship in the school's associated Theater Pforzheim.
Ashvini Sundaram from Surrey was awarded $3,500 to study Bharatanatyam (Indian classical dance) with the highly sought-after contemporary dancer/choreographer/teacher Rama Vaidyanathan in New Delhi, India. Sundaram, who is currently working on her Master of Fine Arts in Dance Choreography from York University, has aspirations of becoming a contemporary choreographer and is interested in intercultural textures between Bharatanatyam and ballet and contemporary dance.
Maya Milic from Vancouver was awarded $3,500 to continue her dance studies at The School of American Ballet in New York. Milic will be entering her third year in September and wishes to dance professionally with the New York City Ballet. She is also a BC Provincial Rhythmic Gymnastics Champion and World Ballet Arts Competition Grand Prix Winner (Canada).
The Chrystal Dance Prize is awarded twice annually. The Training category supports emerging western Canadian dance artists continuing their full-time training at an international institution. The Projects category supports independent artists, companies or collectives working on exceptional projects with an international artist (interpreter or choreographer).
Read the media release for additional details about the 2020/21 CDP – Training winners.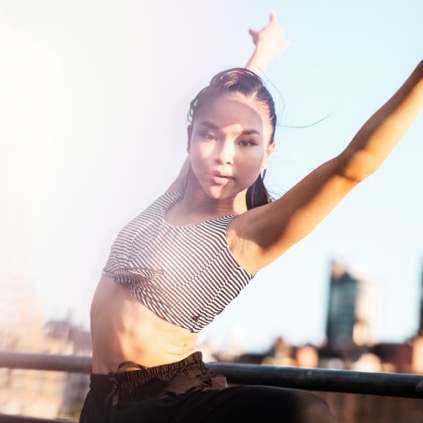 2020/21 Guidelines and Application Procedure
The Chrystal Dance Prize – Training supports young dancers completing their training at an international dance institution. The submission deadline was April 15, 2021. Applications for 2021/22 will be accepted in the spring of 2022.
History of the Chrystal Dance Prize
The prize is funded through an annual disbursement from the Chrystal Dance Fund held at the Victoria Foundation. Learn about Dr. Betty "Chrystal" Kleiman and past winners.