Dance Victoria Studios are located at 2750 Quadra Street in Victoria and are available for you to rent for dance classes, rehearsal and dance related events. Our mandate is to rent the facility to local dancers and dance professionals, but we also rent to yoga, Zumba, theatre and other arts organizations in the community.
All studio rentals feature access to mirrors along one wall, WiFi, in-house sound system with 3.5mm audio cable hookup for digital music players. Portable ballet barres are available.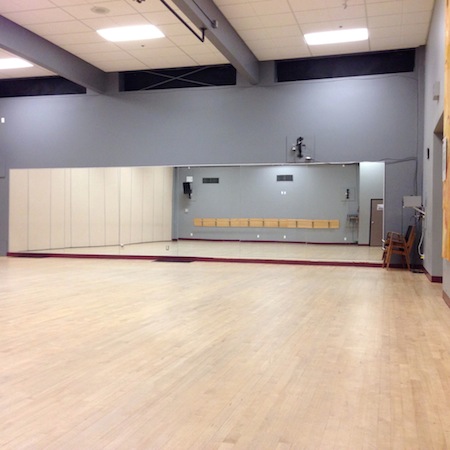 Shaw Studio
[ 47′ 4″ x 37′ 3″ ]
The hardwood floor is ideal for ballroom, swing, salsa, hip hop, contemporary, yoga, and Pilates.
Vernon Studio
[ 47′ 4″ x 37′ 3″ ]
The Marley dance floor is ideal for tap, flamenco, ballet, jazz, and contemporary.
Milne Studio
[ 55′ 10″ x 22′ 9″ ]
The Marley dance floor is ideal for small classes of tap, ballet, jazz, musical theatre, theatre, and yoga.
Rent the ballroom for an event
Find out about renting the "ballroom" for an event or filming dance in our studios.
The ballroom is created by combining the Shaw and Vernon Studios. A staff person (4 hour minimum) is required for all ballroom rentals.
Health Protocols
In alignment with the BC Health, Dance Victoria has detailed health and hygiene protocols for users of Dance Victoria Studios (DVS) as of Apr. 08, 2022. The document will be updated to reflect new BC Health Announcements. Read Dance Victoria Studio Health Protocols.