Ballet BC
Reveal + Tell
Vancouver

120 min (including two intermissions)
Please note: just BEFORE right AFTER features costumes with sheer tops resulting in partial nudity.
---
Under the artistic leadership of Medhi Walerski, Ballet BC's repertoire of 45 new works by leading Canadian and international choreographers is awe-inspiring. This mixed contemporary program features three internationally renowned dancemakers. We will reveal a new world premiere by Walerski set to an original score by composer Adrien Cronet. We also bring you the Canadian premiere of Woke Up Blind, an intense exploration of love from virtuosic creator Marco Goecke, and The Statement, a striking and theatrical masterpiece from Ballet BC alum Crystal Pite—arguably the most sought-after choreographer in the world.
"Ballet BC arrested audiences with breathtaking technical feats and surprising choreography."

THEATRE JONES
Woke Up Blind
"You and I" written & performed by Jeff Buckley, "Like Young Lovers Do" written by Van Morrison & performed by Jeff Buckley
In Woke Up Blind, dancers are drawn into a world of intense sound. They outdo themselves competing with Jeff Buckley's vocal power and guitar sounds, diving into the action recklessly, driven by longing. The songs You and I and The Way Young Lovers Do by Buckley deal with love in different ways. The first slowly, with strongly stretched vocals, the second with fast, frantic guitar accompaniment. Marco Goecke exposes human feelings through pure, highly complex movement. Illuminated from the background by the light of distant stars, all action is concentrated on the here and now.
Set to an original score by Belgian composer Adrien Cronet, the evening will also feature a new piece from Artistic Director Medhi Walerski—his first world premiere with Ballet BC as its leader, and first major creation after a lengthy break from live performance. Walerski's work often explores universal themes such as human connection and the relationship between the individual and the collective.
The Statement
Owen Belton

Meg Roe, Colleen Wheeler, Andrew Wheeler, Jonathan Young
This one-act dance/theatre hybrid by the world-renowned Crystal Pite explores conflict of power through her distinctive and wildly inventive choreographic style. Originally created for Nederlands Dans Theater in 2016, four dancers move to a recorded script by Canadian playwright and close collaborator Jonathan Young. Locked in a battle for control, the characters have been tasked with fuelling a conflict in a distant country. Tensions rise when they are asked to take responsibility for their actions.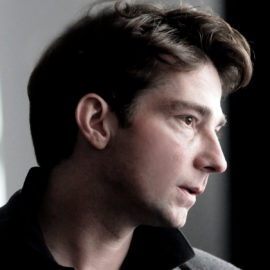 German choreographer Marco Goecke completed his ballet training in 1988 at the Heinz-Bosl-Stiftung ballet academy in Munich as well as at the Royal Conservatoire of the Hague, where he received his diploma in 1995. In 2000, he created his first choreography, entitled Loch. In the 2005/06 season Marco Goecke was appointed Choreographer in Residence at the Stuttgart Ballet, and it was there in December 2006 that he created his first narrative ballet, The Nutcracker. From 2006 to 2012 Goecke also held the post of Choreographer in Residence at the Scapino Ballet in Rotterdam. Since the 2013/14 season he has been an Associate Choreographer at the renowned Nederlands Dans Theater.
Goecke has received several international awards, including the Culture Prize of the State of Baden-Württemberg, the Nijinsky Award in Monte Carlo, the Choreographer of the Year in the critics' survey by the magazine Tanz in 2015, the Dutch dance prize Zwaan as well as the Italian prize Danzadanza for best choreography of the year in 2017. Since January 2019, Goecke has been Artist in Residence with Gauthier Dance Stuttgart. In February 2019, Goecke created his first piece for the Paris Opera Ballet. In the 2019/20 season, Marco Goecke became Artistic Director of the State Ballet Hannover.
His most recent works include a Gershwin evening created for Gauthier Dance, full-length piece The Lover based on the novel of the same name by Marguerite Duras for the State Ballet Hannover, and The Big Crying for Nederlands Dans Theater.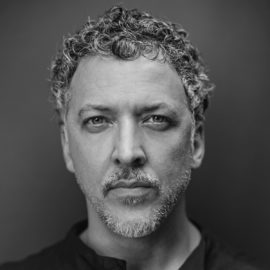 Medhi Walerski became Artistic Director of Ballet BC in July 2020.
Raised in France, he initially trained in Normandy with Laurie Bokobza and Christine Caroly before joining the Conservatoire Superieur de Musique et de Danse de Paris. Walerski danced at the Paris Opera Ballet and the Ballet du Rhin before joining the Nederlands Dans Theater (NDT) in 2001. For more than a decade he was an integral part of the company, contributing to the creative, innovative style that NDT is famed for. He was awarded the Dutch dance prize VSCD Zwaan in 2013.
Walerski has worked closely with many renowned choreographers, creating and performing works by Jiří Kylián, William Forsythe, Ohad Naharin, George Balanchine, Rudolf Nureyev, Paul Lightfoot and Sol Leon, Crystal Pite, Johan Inger, and Wayne McGregor among others. Walerski's choreographic debut was in 2008 for NDT 2. Since then he has created numerous acclaimed works for NDT and Ballet BC including Petite Ceremonie (2011), Chamber (2012), and Silent Tides (2020), as well as works for Bern Ballet, Goteborg Ballet, the Ballet State of Georgia, StaatBallet Hannover, Staattheater Wiesbaden and Charlotte Ballet.
As an educator, he is regularly invited to lecture and give workshops at dance conservatories and festivals around the world.
In a choreographic career spanning three decades, Crystal Pite has created more than fifty works for companies such as the Paris Opera Ballet, the Royal Ballet, and the National Ballet of Canada. She is an Associate Artist at three institutions: Nederlands Dans Theater, Sadler's Wells, and Canada's National Arts Centre. She holds an honorary Doctorate of Fine Arts from Simon Fraser University and is a Member of the Order of Canada.
In 2002, she formed her company Kidd Pivot in Vancouver. Kidd Pivot tours internationally with works such as Betroffenheit and Revisor, both co-created with playwright Jonathon Young, as well as The Tempest Replica, Dark Matters, Lost Action, and The You Show.
Pite's many awards include the Benois de la Danse for her creation The Seasons' Canon  (2016) at the Paris Opera Ballet, the Governor General of Canada's Performing Arts Award: Mentorship Program (2008), and the Grand Prix de la danse de Montréal (2018). She is the recipient of three Sir Laurence Olivier awards for creations with Kidd Pivot and The Royal Ballet.